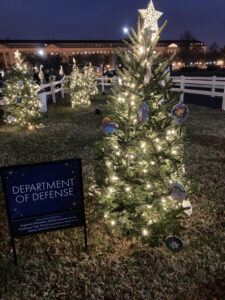 The National Christmas Tree outside the White House has long been surrounded by smaller trees decorated with ornaments created by students from U.S. states and territories. Last December, DoDEA schools finally had their own tree, and its students, with the help of educators, were able to design ornaments celebrating the places around the world they call home.
One school from each DoDEA region was selected to participate in the program: Vogelweh Elementary School in Germany, Humphreys High School in South Korea and Ramey Unit School in Aguadilla, Puerto Rico. The DODEA tree holds 24 ornaments, eight from each school. Dr. Edith Allison, a Visual Arts teacher from Vogelweh Elementary School in Germany, was able to guide her students as they created ornaments for this special opportunity.  FEA spoke with her about this experience: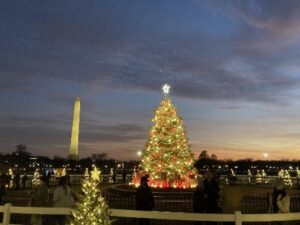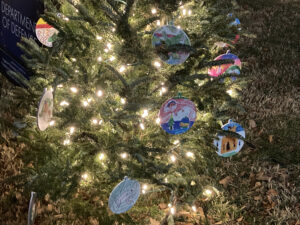 FEA: Please describe the ornament project: What exactly did your students create and how did you and other school staff assist them?
Dr. Allison: The National Parks Department (The President's Park, in particular) invited children to submit drawings to be converted into ornaments for the smaller trees that surround the National Christmas Tree. There is one tree for each of the states and territories. This is the first year the DODEA schools have been included. The children submitted drawings representing what was unique about being an American child living in Germany. They included images of the castles here and local food such as the massive pretzels and images of the flora and, of course, German flags.
My part was to introduce the project and offer suggestions to the children as to how to make their images stand out and really shine artistically. Our IT hero, Xavier Flores, publicized the event and kept it in the public eye through social media postings. We also had 13 staff members volunteer as judges to select the 8 ornaments we were submitting to Washington.
Dr. Edith Allison, Visual Arts teacher at Vogelweh ES, visited D.C. during her holiday break to see her students' ornaments at the National Christmas Tree outside the White House.
FEA: How did you come to be involved in this project?
Dr. Allison: Our school, along with two other DODEA schools were selected for participation, and it was announced at our first staff meeting. I found out along with everyone else and we hit the ground running with the project.
FEA: What did you and your students take from the experience?
Dr. Allison: It was a great opportunity to problem-solve on how to represent an idea through art. We also learned much about our nation's capital because they had many questions so we pulled up maps and looked at the monuments and where the trees would be, and we looked at the ornaments made by children in other states and territories and talked about those. We have students from many states, territories and countries in our school, so they all wanted to see what their "back home" folks had submitted.
FEA: How does it feel to have the ornaments you helped create decorating a tree at the White House?
Dr. Allison: We are all beyond thrilled to be included in this program and seriously honored to be one of the first schools chosen to participate. I had planned a trip to the states for the holidays already but made a side trip to Washington so I could visit their work in person because I'm so proud of them. I am especially proud of all the children who took the time to design and submit ornaments for this program. We were also involved in two other major projects at the time – one in conjunction with Operation Iraqi Freedom for the refugee children and another to celebrate DODEA's 75th anniversary – so they were busy little bees but still took the time to design and create their submissions.