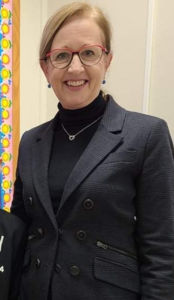 The typical school day for veteran DoDEA educator and FEA member Becky Eversman is a bit unusual. As a teacher of grades 3-5 at the smallest school in all of DoDEA, she teaches multiple subjects to students of multiple ages in the same class. Rising to this daily challenge, Eversman uses her years of teaching experience to craft engaging lessons for each student of her multi-age classes.
A native Iowan, Eversman joined DoDEA as an educator in 1987 after earning her Elementary Education degree from Central College in Pella, Iowa. She felt "honored to educate the children of military families and give back for their love of country and service." After teaching at DoDEA schools in the UK for several years, she transferred to Kleine Brogel Elementary School in Belgium.
Due to the small number of students in the nearby military community, Kleine Brogel ES in Belgium has just 28 students and two teachers, resulting in multi-age classrooms. In this class structure, teachers design curriculum by identifying common outcomes/content from each grade level and blending them together. This allows for differentiation based on student needs and growth. This model is different from split grade classes in which students from two or more grades are taught the content for just one grade level.
Like most elementary school teachers, Eversman teaches multiple subjects, including math, science, literacy, and social studies. Despite the challenge of having three grade levels in every class, Eversman finds ways to creatively vary her instruction for each level. This requires a very clear classroom model and set of routines, but also extensive lesson planning to meet the standards per grade. She explained some of the dynamics of this class setup and her teaching strategies:
"There are times where you need to teach some material to a specific age group. So, for example, literacy and math blocks need to be clearly designed with a set routine to include strategies for how to move on with the learning while the teacher is instructing a small group of students. You teach students how to guide and instruct each other through modeled practice that includes sentences and phrases used to move toward the answer while not giving others the answer."
Eversman sees how this shared learning experience often develops positive student relationships and attitudes toward growth. "It's often the case that when a student begins to master a skill, they share their learning with other classmates, which builds leadership characteristics, and the younger students then look up to these classmates and work toward becoming skillful too," she explains.
Her class structure often has students showing interest in learning content outside of their grade level:
"In social studies, I can be teaching about the Northeast regions to one age group then the Aztec civilization to another. I often notice how a student will eavesdrop on a lesson and pick up the learning through being engaged and interested. These are the teachable moments as well."
Eversman also stresses the importance of offering her students a new classroom experience every year. To allow students to "feel they are growing in their grade levels", she introduces new norms, expectations, and classroom building activities at the start of each school year.
After years of teaching, Eversman focuses on being a facilitator of the learning in her classroom and tries to instill good work habits in her students. She seeks to appreciate each student's learning style and background, while offering engaging lessons.
In her free time, Eversman works on assembling a set of books on issues of diversity and inclusivity for a classroom library. Now in her 35th year of teaching with DoDEA, she still feels honored to be to give back to military families.