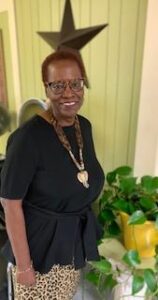 FEA members dedicate their careers to educating the children of military families around the world, but often don't have their stories told.
During her forty-two years as an educator, FEA-Retired member Norma J. Sanders taught multiple grade levels in multiple states and countries, served in many FEA leadership roles, and helped unionize Stateside schools. Inspired by her parents and the civil rights movement of the 1960s, she exemplifies FEA members' dedication and passion for their profession.
Sanders grew up in Montgomery, Alabama, as one of eight children. While her parents were not able to complete their educational dreams, they always stressed to their children how education could positively impact their lives. She recalled: "This was my driving force to become an educator: to ensure each child would be able to fulfill their educational dreams."
Sanders also found a passion for activism and social justice at an early age. As a young child, she and her friends participated in 1965's Selma to Montgomery March, a protest to end segregation and secure voting rights for Black Americans. This event inspired her to fight for others whenever she could:
"As a 'Foot Solider' of the March, I have always tried to use my voice to fight for others, whether pursuing better working conditions, accepting cultural differences, or advancing human and civil rights issues."
Sanders dedicated her career to education, earning degrees in Early Childhood and Special Education from Alabama State then Tuskegee University. She would go on to teach in Alabama, Louisiana, California, Italy, and finally North Carolina. Over her career, she taught multiple subjects, ranging from kindergarten to college courses, and always aimed to inspire a lifelong love of learning in her students, just as her parents had done for her.
She also saw the need for educator representation in DoDEA Stateside schools, which could give voice to educators who have concerns and change their working conditions for the better. Continuing her passion for life-long civil rights and solidarity, she became one of the grassroots organizers in the effort to organize DoDEA Stateside teachers in the early 1990s, helping lead to the establishment of FEA-Stateside as a bargaining unit.
Sanders would serve in many FEA roles: Vice President of her local association on multiple occasions; FRS; a member of the Blue Ribbon Task Force for HCR; and HCR for her school's educators, giving them a voice and promoting diversity and understanding. She notes how important this training was for teachers who often lived abroad: "We were able to train individuals on understanding and respect of cultural differences, regardless of where they were in the world."
While Sanders retired from DoDEA in 2019, she stays busy with her new roles as lobbyist with Community Change Action, a member of Action, North Carolina-Tenant Organizing Resource Center, and a member of FEA-NEA Retired. She continues to use her voice to fight for others, however she can.
View more profiles of our amazing members at feaonline.org/who-we-are/meet-our-members/.